"A room without books is like a body without a soul."
― Marcus Tullius Cicero
"Good friends, good books, and a sleepy conscience: this is the ideal life."
― Mark Twain
"Books are the quietest and most constant of friends; they are the most accessible and wisest of counselors, and the most patient of teachers."
― Charles W. Eliot
My favorite books are listed below.
Source: https://www.amazon.com/Brothers-Karamazov-Dover-Thrift-Editions/dp/0486437914
Dostoyevsky is among the best novelists to ever exist. In this long novel, he guides us through the ethical debates on God, free will and morality. There are three brothers and one father, who gets killed. The eldest son, a materialist and sensualist like his father, is accused of murdering the father for supposedly eliminating competition for a girl that both father and son are in love with. The second son is an ardent atheist, and the third son is a novice in the Russian Orthodox monastery, who engages his brother in philosophical debates on God. Dostoyevsky, as with the other famous Russian novelists of his generation (Leo Tolstoy, Alexander Pushkin, Ivan Turgenev, Vladimir Nabokov, Mikhail Lermontov, Maxim Gorky just to name a few), helps us understand the human condition better. He is known to have influenced existentialist philosophy, which is carried by the likes of Soren Kierkegaard, Friedrich Nietzsche and Jean Paul Sartre.
Source: https://www.amazon.com/Notes-Underground-Fyodor-Dostoyevsky/dp/1731701365/
A bitter, isolated and unnamed man is a retired civil servant in St. Petersburg, writing down a rather cynical take on life: He attacks utopian society for wanting to remove suffering and pain, when it is really man's desire to have suffering and pain in order to be happy. Removing pain and suffering is taking away man's freedom. He also attacks the belief that man will always act in self-interest, because some men just want to validate their existence to protest and confirm that they exist as individuals. Utopianism assumes full rationality, but a human is not rational. Hence, dystopia is an essential part of the human condition. This is somewhat reminiscent of Laozi's belief that the intellectuals' desire to regulate man's behavior "for his own good" is actually contravening human nature and his freedom. Later the man goes out with a prostitute in a brothel. After sex, she proclaims her dream to rise up the social ranks and become a functioning, successful member of society. The man dresses her down (figuratively!) by attacking her utopian trust in society and humanity's ability to avoid corruption and irrationality. It is the man's cynicism and the lack of deference to societal expectations that makes him a man of the underground, but he is an important check on the idealized beliefs that prevail in contemporary capitalist society.
Source: https://www.amazon.com/Merchant-Annotated-Introduction-Charles-Herford/dp/1420953362/
A young Venetian nobleman, Bassanio, needs funds to woo the wealthy heiress Portia. His friend Antonio is a wealthy merchant (and anti-Semite) but cash-poor at the moment, and needs to wait for his ships to return with cash. He agrees to cover a bond if he got cash from a third person, Shylock, the Jewish moneylender. Shylock agrees reluctantly to advance the cash without interest, but only under the condition of getting a pound of flesh if the money does not return at specified date. Bassanio marries Portia, but the ships don't return. Bassanio and Portia offer twice the amount to Shylock, who rejects the offer. Shylock is ready to take his pound of flesh from Antonio, but Portia intervenes and says that the contract only states that he can have a pound of flesh, but not any blood. Shylock relents and wants the money, but Portia now states he has forfeited his right to any cash because he refused it the first time. One may note the anti-Semitic undertone of the story, but for me the crucial takeaway is the immorality of the credit system, whose legalist pursuit creates inequality and conflicts that were punished with debtor's prison and now with pawning salary and being no longer considered "creditworthy", while only in the rarest cases does a lender have his loans not returned.
Source: https://www.amazon.com/Turtleback-Library-Binding-Classics-2003-08-01/dp/B01JXQSV0M/
The British novelist George Orwell, a socialist, depicts a future totalitarian and authoritarian state, coining terms like Big Brother, doublethink, thoughtcrime and Newspeak. Big Brother is the world government of Oceania, who supervises people and persecutes individualism and independent thinking. The propaganda organs rewrite history to whatever is convenient to impersonal power structure. Orwell teaches us to be vigilant of untrammeled organized state power (without being an anarchist or libertarian).
Source: https://www.amazon.com/Animal-Farm-George-Orwell/dp/0451526341/
In Animal Farm, Orwell narrates the history and aftermath of the Russian Revolution of 1917 in the form of a fictional story of an animal farm. The human farmer Mr. Jones is irresponsible and neglects his animals. The pigs are the political leaders, promising to overthrow Mr Jones and that all animals are equal. But the other animals work hard with nothing to show for it, while the pigs seem to be enriching themselves. The pigs give speeches about equality and progress, but the subordinate animals know that "all animals are equal, but some animals are more equal than others". Orwell makes a broadside attack on Stalinism with this novel. It is the inversion of the socialist promise of equality and freedom under Stalinist totalitarianism that makes the really existing socialism of the past a failure. For the socialist Orwell this is no condemnation of socialist principles rather of socialist practice.
Source: https://en.wikipedia.org/wiki/No_Exit
In Jean-Paul Sartre's play, three dead individuals are placed into the same room, and they quickly find out how little they can get along with each other, which is their eternal punishment. There are Joseph, Ines and Estelle. Joseph does not like any of the women, but allows himself to be seduced by Estelle. Estelle wants to sleep with Joseph, while the lesbian Ines wants to sleep with Estelle. As all three are in the same room, Estelle's seduction does not work as Ines interferes in their lovemaking. Estelle tries to stab Ines, but Ines laughs and notes that they are already dead. She can't die again. The three are trapped together for eternity. Joseph exclaims that "hell is other people", which suggests that mere existence with other human beings is not necessarily the source to happiness. Hell is not necessarily like Dante's Inferno, but comes out of sociality.
Source: https://www.amazon.com/Politics-Aristotle/dp/1719159890/
Aristotle gives a great introduction to Athenian politics. The first statement is that humans live in households (oikos) and they participate in the political community (polis). The household contains the family and slaves that worked for them (the latter being regarded as quite problematic in the present). Aristotle is also known for classifying the various political constitutions, ranging from monarchy, tyranny, aristocracy, oligarchy, constitutional government to democracy. The ideal for him is constitutional government, where democratic and oligarchic elements are fused.
Source: https://www.amazon.com/Nicomachean-Ethics-Translated-Introduction-Browne/dp/1420953648/
Aristotle also was a great ethicist, and he points out that the highest good for human beings is to seek eudaimonia, or well-being/ happiness. This is different from momentary pleasure, but is rather long-term contentment based on the virtuous disposition of an individual's soul and the cultivation of his intellect (nous). Well-being and intellect are what set us apart from other animals, and a good life does not come about without them. Humans must pursue reason (logos) in thought and speech; a sense of justice and fairness; a good sense of practical judgment (phronesis); and be a good friend to others. Moral virtue is a conscious choice. One should be courageous, which is the golden mean between cowardice and foolhardiness. One should exercise temperance, which is the golden mean between profligacy and insensibility. One should exercise generosity, which is between wastefulness and stinginess. One should have a greatness of soul, which is between vanity and smallness of soul (which sounds quite similar to the Confucian distinction between junzi (gentleman) and xiaoren (little man)). One should be gentle, which is neither irascible nor spiritless. One should be friendly without being flattering or quarrelsome. One should be truthful without being boastful or self-deprecating. One should be witty without being a buffoon or a boor. I find his treatment of friendship particularly interesting, because they are so essential to human existence: they can either be formed out of utility (e.g. business partners or school colleagues), pleasure (e.g. people you play soccer with) or virtue. It is the latter that takes the most time and effort to form and cultivate, but is the most worthwhile. Herbert Marcuse and Alasdair McIntyre, among others, pick up on happiness as a crucial part of human existence.
Source: https://www.amazon.com/Republic-Penguin-Classics-Revised-Paperback/dp/B00OVNFEM6/
In the dialogues between Socrates and his followers Cephalus, Polemarchus, Tharsymachus, Glaucon and Adeimantus, Socrates explains the ideal government in a polis. The ideal city (or state) has a true philosopher, who understands the "forms" (ideas of things that exist) and who becomes the ideal leader, who can ensure that citizens cooperate harmoniously with each other. The philosopher-king is an intelligent, reliable, morally upright person who leads a simple life. There is a parallel to the Confucian tradition, where the morally upright ruler is the most important figure in a political community, while the others are followers. Plato's take is way more authoritarian than Aristotle, who believes that democracy and oligarchy should be mixed. For Socrates, reality diverges from the ideal in that human societies are trapped between unjust rules of timocracy, oligarchy (both rule of the rich), democracy (rule of the poor) and tyranny (rule of one bad person).
Source: https://www.amazon.com/Apology-Crito-Phaedo-Socrates-Plato/dp/1533657270/
Plato describes Socrates' trial. He was accused of being an atheist, and corrupting the youth with his smart arguments that debunk the logic of his intellectually inferior interlocutors. He was condemned to death and drank hemlock. The oracle of Delphi clearly states that Socrates was the wisest man alive, and Socrates recognizes that he knows nothing. Socrates' strength is to undermine the logic of other people, who regard themselves as wise and smart, and yet Socrates is the only person wise enough to know that he is not wise. The atheism charge is a charade, because all he says is that death and afterlife (if there is such a thing) cannot be bad, even though the masses feared their own death. But Socrates points out that we cannot fear or be anxious about something that we have no foretaste or concrete knowledge about. Plato shows an application of a wise man, and the wise man has no insight other than the limits to his own wisdom. Ludwig Wittgenstein's claim to fame is his dictum, "Whereof one cannot speak, thereof one must be silent." Much of human life is unspeakable, and human reason/ language is limited, so simply enjoy the art, food or music!
Source: https://www.amazon.com/Analects-Penguin-Classics-Confucius/dp/0143106856/
Confucius is arguably the founder of the East Asian value system, believing that the welfare of a country is based on the virtue (ren) of the nation's leadership. People have to listen to the rulers, and the rulers are kind to the population and watch over them like the herdsman looking over sheep. Hierarchy and discipline are important, which are maintained by devotion to rituals or forms of propriety, the appreciation of education and learning, and the practice of filial piety. In filial piety, the son listens to his father (yes, the framing is traditionally quite paternalistic), and by extension he accepted the proper habits and rituals that make him a hard-working farmer and taxpayer to the state led by the ruler/ king. Confucian principles tend to do quite well in managing feudal agricultural societies, but things do become more complex with the emergence of bourgeois- capitalist society. It is no surprise that the current Communist government in China is mixing capitalism with the re-heating of Confucian ideology, presumably to combat the "evil" foreign idea of democracy.
Source: https://www.amazon.com/Mencius-Translations-Asian-Classics/dp/0231122047/
Mencius was one of the students of Confucius, and makes the addition to the Confucian state theory that while a good, benevolent ruler can count on the support of his people, a bad ruler can be toppled by the Mandate of Heaven, or the people. After 2-300 years of dynastic rule, the late rulers tend to be lazy and corrupt. All it takes is bad weather causing a bad harvest, peasants go hungry and many resist paying the onerous taxes and rebel against the ruler. A new ruler comes in, defeats the government army and crowns himself king with the support of the population. Mencius upholds the philosopher-king perspective of Confucius, but leaves the door a tinge open to representative democracy, which gives much discretion to the subjects on who their ruler is going to be. Another important insight in Mencius is his belief that humans are innately good and that society causes bad character, similar to Rousseau's idea many years later in France. Education can cultivate even more goodness in people.
Source: https://www.amazon.com/Xunzi-Complete-Text/dp/0691161046/
Xunzi was another Confucian follower and reacted to Mencius' positive description of human nature by arguing instead that humans are by nature evil, greedy and self-interested, and that only education can put people on a path to virtue. As a Confucian, he converges with Confucius and Mencius on the importance of education in cultivating desirable leaders and by extension desirable citizens (at that time, peasants were needed to plow the fields, and not read literature and the classics, which was reserved for the mandarins and civil servants). Xunzi also believed in meritocracy, where the most capable officials should be promoted to higher ranks (rather than the ones with the best social connections). Xunzi spawned the Legalist tradition led by Han Feizi, who actually turned against education as making people too critical of the system, which can undermine political stability. The Legalists only care about the formulation and application of laws that people have to comply with to retain a stable society. Any talk of virtue is too abstract and confusing for them. Legalists are the true traditionalists, and have been a favored theory among state bureaucrats ruling the empire. Mao Zedong was a great fan of Legalism.
Source: https://www.amazon.com/Tao-Te-Ching-Lao-Tzu/dp/1984055763/
Laozi is the founder of Daoism. The translated term is the classic for the "way of virtue". So what is the way of virtue? It is about merging human action with nature. Wuwei or non-action is the central concept in Daoism. We should not force behavior, but we should flow with the moment, and pursue simplicity and humility in all action. People should not endlessly accumulate knowledge (as the Chinese mandarins), which leads to idle speculation and a complicated life, but focus on the present. Laws don't make better citizens, as with Confucianism, but create more criminals as with Laozi. This seemingly nihilist position in Daoism explains why Laozi was opposed to a strong government. Similar to libertarianism, the state should do as little as possible, which is in contrast to the Confucian tradition, which assumes the virtuous ruler presiding over strong state power.
Source: https://www.amazon.com/Bhagavad-Translated-English-Introduction-Kashinath/dp/1420954784/
In the Bhagavad Gita, Arjuna, a Pandava, faces a war with the Kauravas in the Kurukshetra War, and gets doubts. He gets into a conversation with his charioteer and guru Krishna, and they talk about the nature of life, soul, death, afterlife, deeper meaning and reality. In the Hindu belief everyone has an eternal soul and would go through endless cycles of death and rebirth until they get liberated via eternal peace, the moksha. People have to seek wisdom, desireless action and self-knowledge if they want to reach moksha. "Action leads to knowledge, while selfless action leads to spiritual awareness".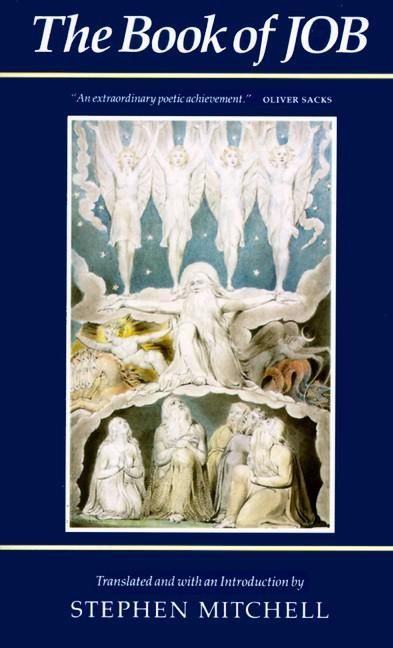 Source: https://www.harpercollins.com/9780061847462/the-book-of-job/
The most famous story in the Old Testament is the Book of Job. Job is a God-fearing and pious person, who has a family, wealth and good health. But Satan then tells God that Job is only pious because of his fortune. Strip away his fortune, and he will curse God. God then tells Satan that he can test Job by killing his sons, taking his wealth and giving him illness. Eliphaz, Bildad and Zophar are the three friends who comfort Job by telling him that he must have sinned and that he should ask for repentance from God. Job counters that he has done nothing wrong and that a merciful God cannot torture a good human being without cause. God finally appears and admonishes Job. Without directly addressing Job's charge of unmerciful punishment, God states that he is the creator of the Universe and is doing things right. He also admonishes Job's three friends for not grasping that his poor treatment of Job is not because of Job's wrongdoing. Job accepts that Job himself is not the creator of the universe and he repents and retracts. God then restores a family, wealth and health to Job, who lived to a very high age.
What is taught in the Old Testament sounds very different than in the New Testament, where the acknowledgment of sin should place one at the grace of God, i.e. similar to Eliphaz, Bildad and Zophar. In contrast, in the Old Testament, there is no assumption about God's mercy and grace. He is all-powerful and gets to decide whom to inflict with blessings and whom with punishment. We return to the world of the ancient Greek gods, feuding with each other over which country to support during the war. Why do the righteous suffer? The conventional answer is that they have been sinners. The other is that one's fate is arbitrary. God can decide whatever he wants. Another perspective is that God is all-knowing and humans are not. God has a reason to punish a human if he so wishes. He has a good reason for it, but we humans cannot access or comprehend this reason. I think the third interpretation is not very pleasing to the human mind in an era of the enlightenment, but it is another commonly used explanation among believers.
Source: https://www.amazon.com/Five-Stages-Greek-Religion-Olympian/dp/1387890670/
Gilbert Murray, classicist, gives the reader a great overview of how the polytheist Greek paganism turned into monotheist Christianity. He analyzes Homeric hymns, Hellenistic philosophy such as Platonism and Gnosticism, the Treaties of Sallustius. The Olympian gods are personal goods, who have normal human motives, and influence the course of human wars. In the Christian belief system, there is only one all-knowing, all-powerful God. Believers and thinkers gradually developed a desire to create a direct link with the divine and supernatural, and monotheism was the way to go, leaving paganism behind. A similar story of pagan displacement happened in the Middle East with the rise of Islam under Muhammad.
Source: https://www.amazon.com/After-Virtue-Study-Moral-Theory/dp/0268035040/
The philosopher Alasdair McIntyre revives the Aristotelian idea of eudaimonia (happiness) and telos (end), which for McIntyre takes the form of the moral community based on small-scale local communities, where values, beliefs and ideals are one and the same with practice. McIntyre's collectivism is meant as an attack of the Enlightenment project with its progeny liberal individualism and Nietzschean nihilism (the Ubermensch declares the meaning of life on his own without the pretense of religious belief or even Enlightenment individualism). For McIntyre, without a communal telos (understanding ends via virtue), we are doomed.
Source: https://www.amazon.com/Muse-Learns-Write-Reflections-Antiquity/dp/0300043821/
The classicist Eric Havelock argues that Western thought developed from the transition from orality to literacy. In oral traditions, it is hard to remember complex ideas, so community principles and beliefs have to be repeated endlessly, usually in the form of songs, hymns or melodies. The invention of writing served two functions: (1) it made remembering ideas unnecessary, because it is stored on paper (and later in computer servers). (2) It gave more leeway for writers to develop abstractions and more complex ideas that generate things like civil society or bureaucracy.
Source: https://www.amazon.com/Capital-Critique-Political-Economy-Classics/dp/0140445684/
Karl Marx, the German philosopher turned political economist, defines the essence of capitalism: the accumulation of capital in private hands. Capitalists own the means of production and extract surplus value from the working class, which consists of former peasants who were kicked out of their land. Capitalism will result in its own downfall, because over time the rate of profit falls as capitalists increasingly rely on machines rather than workers. In the Marxian system, only workers, not machines, deliver more value than they get paid, so the increment profit comes entirely from capitalists exploiting workers. At the same time, machinery, the constant capital, is a necessary component to generate more output than competitor firms and thus sell more goods to people. Over time, capitalism creates an abundance of consumer goods and people do become materially wealthier- the first time this has ever happened in human history-, but we are trapped in a ceaseless treadmill of selling our labor power to capitalists, trying to get academic qualifications and training for jobs that might become obsolete in a few years time. As Piketty points out, the natural trend of capitalism is high returns for capitalist rentiers and less returns for wage laborers, who rely on a flourishing real economy (as opposed to financial economy).
The contradiction between material abundance and economic insecurity/ inequality lies firstly in the private ownership over the means of production (rather than social ownership for socially desirable goals), and, more abstractly, in the disconnect between use-value and exchange-value, which- unlike in bourgeois (mainstream) economics- do not move in lockstep. Use-value increases over time, which is about the material abundance of commodities under capitalism, but exchange-value, the market-price of a commodity declines with rising productivity, which puts a downward pressure on profits. The way to survive for the capitalist is to capture new markets, commodify wage labor in previously non-capitalist countries and convert them into consumers, or merge and concentrate capital, which takes on ever more extreme forms in the contemporary technology companies. Monopoly capitalism creates more inequality, and that creates generalized social discontent. As for a resolution, the young Marx wrote of the potential for a communist revolution, where the workers take over the factories, throw out the capitalists and create an economy based on use-value and common benefit. You won't find much of that language in Das Kapital, which is written by an older and mature Marx, who described the internal logic of capitalism. I personally make a distinction between Marxist religion and Marxist social science, where the former relies more on the writings of the young Marx (Communist Manifesto, German Ideology) and the latter on the old Marx (Kapital). I have more confidence in the latter project.
Source: https://www.amazon.com/Wealth-Nations-Modern-Library/dp/0679424733/
Adam Smith, is a Scottish moral philosopher and political economist, who is the founder of classical economics. Smith took issue with the prevailing mercantilist economic theory that the goal of the state is to grow the state treasury via hoarding bullion. This would be accomplished via a trade surplus, where the country exports more goods and services than it imports. Instead, the goal of the nation must be to increase wealth as such and that would be possible by allowing private actors to produce things that they have a comparative advantage in and trade them with others, i.e. division of labor. Demand and supply are regulated via prices to ensure that only what is demanded will be produced. A scarcity of goods will increase prices and lead to more production, while an abundance of goods will lower prices and induce producers to shift production elsewhere. But Smith was no libertarian and argued that the state has an important role in funding public infrastructure, suggesting that the private sector will not provide these goods. Furthermore, Smith believed that a major threat to free market capitalism are monopolistic corporations that receive these charters from the state. They are exploitative to workers, who are paid low wages, while monopolistic profits are inflated.
Source: https://www.amazon.com/Principles-Political-Economy-Taxation-Ricardo/dp/1296821668/
The British economist David Ricardo builds on Smith's theory by presenting a theory of comparative advantage, which states that free trade between countries is mutually beneficial, even when one country has an absolute advantage in all areas of production. Free trade would still make sense, which means that countries should focus on producing the commodities they have a comparative advantage in and then trade the surplus of these goods for other goods from abroad they need. Ricardo was also known for formulating the labor theory of value, which was also the basis of Marxian political economy. Ricardo defined three economic classes, the workers, capitalists and landowners, whereby all the produced value depends on the amount of labor embedded in it. Breathing air is free, because it is so abundant, while a car is expensive, because many workers are needed to assemble and design the car. Opponents of the labor theory of value tend to emphasize the balance of demand and supply in determining price. My own take is that the usefulness of LTV depends on the level of abstraction one wants to use. LTV is focused on the supply side, while the price of the product is determined by the interaction with the demand side. Ricardo also was one of the first thinkers to define the concept of technological unemployment: when capitalists invest in technology and produce more goods, it can throw people out of work and their wages will decline. Quite a topical concern.
Source: https://www.amazon.com/Protestant-Work-Ethic-Spirit-Capitalism/dp/1941129706/
Max Weber, lawyer by training and one of the founders of the German discipline of sociology, studies the features and characteristics of a modern capitalist economy, which has bureaucracy and rationalization as the most important characteristic of modern life, which are published in his book Economy and Society. In The Protestant Work Ethic, Weber investigates the origins of capitalism and finds Marx' historical materialism quite limiting. For Marx, capitalism is an evolution from primitive communism and feudalism and argues that societal transformation is characterized by shifts in technology and the social relations of production, i.e. the ways in which the surplus product gets appropriated. But for Weber the legitimacy of a system does not come from materialism but the ruling ideas, and these ideas come from religion. Weber argues that capitalism is an offspring of Protestantism. Protestantism bypasses the pope and the bishops as the dominant religious institution that interpret God's will for the believers. Instead individuals directly establish a bond with God. But how can a believer know that he is appreciated by God? The Calvinist-Protestant answer is by good works, frugality, hard work, savings, and wealth. As time goes on some people become very wealthy, and once the ball begins rolling, there is no closing of Pandora's box. Capitalism is here and stays with us. There are many critics of Weber's Protestant thesis because Christianity is still centered on equality and pro-poor action, but for me the key takeaway is that ideas drive the founding of capitalism. It stands to reason that ideology is also what sustains it, as the Frankfurt school under Theodor Adorno and Max Horkheimer was keen to point out. In their view, films, radio programs and magazines convert individuals into a passive mass society, such that people cannot imagine alternatives to consumerist capitalism. The power of capitalism is not the mass of consumer goods produced and consumed, but that it becomes normalized.
Source: https://www.amazon.com/Great-Transformation-Political-Economic-Origins/dp/080705643X/
Karl Polanyi, economic historian, responds to the Great Depression of the 1930s, which brought to power fascist forces and their crazy quest for world domination via military invasion. The Great Depression and the resulting economic dislocation of many business owners and workers laid bare the failure of so-called self-regulating markets. For Polanyi, markets tend to disembed from society. The crucial inputs to market-dominated society are land, labor and money, which are fictitious commodities, i.e. they are not natural commodities but have to be made such via customs and state laws. But although central banks can print money, and existing land can be converted to useful real estate, labor is perhaps the weakest link in the chain. A well-educated, healthy worker is likely to sell his labor power at a sufficient price, but an uneducated, sick, elderly or disabled person cannot do so. In the old days, families have the welfare function to care for weak persons, but capitalism tends to weaken family bonds (an important reason why true social conservatives hate market capitalism). Free market thinkers think that voluntary charity has to fill the gap for people, who can't sell their labor power at a price sufficient to sustain living expenses. For Polanyi, the welfare state has to protect workers, which embeds markets back into society. The welfare state is a double movement: from liberalism back to social protectionism. However, it is important to note what form the welfare state will take, because Polanyi was highly critical of the British Speenhamland system, which involved state top-ups for low-wage workers, which incentivized these employers to pay the lowest wages possible. But importantly Speenhamland was a socially protective response to the violent economic dislocation of separating British farmers from the land they used to inhabit. Polanyi was a socialist and believed that the irrationality of markets can be overcome in the future, although as a historian he is better at describing past trends up to the present than predicting what will come in the future.
Source: https://www.amazon.com/Social-Origins-Dictatorship-Democracy-Barrington/dp/B01MQZYEY6/
Barrington Moore is one of the founders of historical sociology, spawning other scholars like Theda Skocpol and Charles Tilly, and he wanted to explain the rise of fascism and democracy, which are linked to the social class structure. In particular, democracies can only arise when an independent bourgeoisie focused on trade, capitalism and commercial expansion takes root in a society. The bourgeoisie and landlords were of about equal strength, and the peasants were either expropriated or small-scale, individualist. The case studies are Britain, France and the US. In contrast, in Japan and Germany, the bourgeoisie was weak, the aristocrats and feudal lords were strong and coalesced around a strong bureaucratic state, and once the Great Depression occurred, these aristocrats backed fascist regimes and the quest for world domination. A third case is China and to some extent Russia, where bourgeois intellectuals backed a strong peasantry in the communist revolution, which overthrew the power of landlords. The only odd case is India, where the peasants were also quite strong, but society was stratified by caste, which points to political decentralization. India flirted with socialism after leaving British domination in the 1940s, but struggles to embrace any -ism (socialism, capitalism) consistently. There is a path dependence to political systems, although Japan and Germany escaped the fascist trap because of US domination and the breaking up of their landlord class. Moore's thesis had no provision for labor, but he also focused on the period right before the emergence of the industrial proletariat. There is an idea that Marx was obsessed with social class, which is only true in the aggregate of social theory. As for the history of class relations, I think Moore's study wins head on.
Source: https://www.amazon.com/General-Theory-Employment-Interest-Money/dp/965006026X/
John Maynard Keynes was a British mainstream economist, who diagnosed the challenge of the Great Depression, blaming it on the wrong belief in laissez-faire economics. The economic slump produced very high rates of unemployment, which refused to decline. Many countries adopted a "liquidationist" strategy, which means let the businesses fail and wages drop. New businesses will come up and create new jobs, which will restore the virtuous cycle of capitalism. Keynes had two problems with the standard economic argument: first, nominal wages were downwardly rigid, which suggests that employers did not have the freedom to downwardly adjust nominal wages. The only palatable way to cut real compensation is by inflation, not by deflation of monetary wages. Secondly, and even more importantly, full employment is driven by aggregate demand and not the price of labor. The lack of general purchasing power in the economy negatively affects investor expectation (the "animal spirit"), which reduces investment spending and job creation, thus prolonging the slump. It certainly does not help that the capitalists hoard most of the capital ("low marginal propensity to consume"), and see no personal reason to consume and to invest given insufficient aggregate demand. Who can save the economy from the slump? The state, which controls both the money supply as well as fiscal policy. The state has every right and perhaps the moral duty to invest to fight the economic depression.
Keynes is the single most important intellectual to articulate the vision of social democracy or democratic capitalism. Within western developed countries, it was a unique political settlement to share the fruits of economic growth between workers (represented by strong trade unions) and capitalists inside the nation state, while the state propped up any shortfalls in aggregate demand with government spending. The Keynesian consensus was dismantled under the pressure of international capital and right-wing governments influenced by neoliberal thinkers like Hayek or Friedman. Among the old left-wing veterans like Bernie Sanders or Jeremy Corbyn, Keynesianism is the vision that they seek to warm up to fight today's fascist threat, though it is unclear whether the Keynesian consensus is revivable within globalized capitalism.
Source: https://www.amazon.com/Capitalism-Socialism-Democracy-Joseph-Schumpeter-ebook/dp/B00AWO0CYI/
Joseph Schumpeter, economic historian, argued that capitalism is dominated by creative destruction, which means that a new method of production creates new industries and employment, while laying waste to old and obsolete methods of production. Textile factories churned out vast quantities of clothing and displaced small-scale textile producers. The i-phone replaced the Nokia cellphone. More interestingly, Schumpeter also argued that capitalism will result in the growth of monopoly power with giant corporate bureaucracies. This will make capitalism sluggish and uninnovative, which will be at the root of its demise. Furthermore, social democratic intellectuals and political movements will push toward the growth of the welfare state funded by a rising burden on companies, which will also tamper capitalism. While Schumpeter is quite impressed by the innovative capacity of capitalism, similar to Marx, he views it as an economic system with limited shelf life. As for democratic socialism, Schumpeter has quite conservative inclinations and posits that democracy is hardly feasible in practice (which is also true in capitalist democracies) because the demos is passive, and representative democracy remains the best approximation there can be of democratic governance. But some form of socialism will come, not via revolution but via the exhaustion of capitalism. His prediction has not turned out to be true, yet, although calls for secular stagnation in the advanced industrial countries are growing louder.
Source: https://www.amazon.com/Road-Serfdom-Documents-Definitive-Collected/dp/0226320545/
Friedrich Hayek, Austrian economist, was the founder of neoliberalism. Writing around the same time as Keynes, Polanyi and Schumpeter, Hayek was less concerned about the supposed failure of market capitalism than about the state intervening more and more in the economy. Taking the case studies of Nazi Germany and the Soviet Union, Hayek strongly believed that government intervention into the economy is a self-reinforcing cycle, where any intervention produces certain shortfalls, which require even more intervention until at the end the state owns all the means of production, the private entrepreneurs are displaced, and humans are no longer free but under the yoke of state totalitarianism. Reviving the idea of liberalism, he posits firstly that the state and the market are separate spheres (i.e. the total opposite of Marx and Polanyi), where the state can only set framework conditions like enforcing contracts, handling externalities (i.e. costs onto third parties) and private property claims but no more than that. Secondly, the individual has total supremacy, although some welfare state ensuring a minimum standard of living is acceptable. It was Ayn Rand, a Russian emigre traumatized by the Soviet Union, who went all the way toward the worship of capitalists and preclude welfare rights, which in Isaiah Berlin's view consists of positive freedom, while embracing only the freedom from undue state interference, which is negative freedom. Regardless, Hayek is the hero of any libertarian alive today. His themes were picked up by the American economist Milton Friedman, who wrote in more popular ways than Hayek, and became the central architect of neoliberal reform beginning in the 1980s with the failure of the Keynesian consensus.
Source: https://www.amazon.com/Capital-Twenty-Century-Thomas-Piketty/dp/067443000X/
While Marx observed a brief window of capitalist development in Britain in the mid-19th century, Piketty has the privilege as an early twenty-first century observer to use the plethora of historical income and wealth data to show the distributional consequences of capitalism. He demonstrates the U-shape in that capital was very concentrated in the early part of the twentieth century, followed by the Great Compression between the 1930s and 1970s, and since then we have seen a growth of the top income and wealth share similar to the early part of the century. What is driving these wealth trends? Piketty distinguishes between different periods of economic growth (g) and return on capital investment (r). The historical norm is for capital returns to be higher than economic growth r>g, which is the current pattern and that of the early twentieth century. The anomaly in history is the Great Compression, the era of the Keynesian consensus, where large economic growth trickles down to the bottom 80% of the income distribution, returns on work (i.e. wages) were high and supported by strong trade unions, but returns on capital were low, because capital was taxed higher, a lot of it was destroyed during World War II (hence the dictum that war is good for economic growth). What is the solution to growing inequality, assuming that it is bad for social cohesion, as discussed in Wilkinson and Pickett? Tax the rich and corporations more! Piketty is not a radical. He is a center-left intellectual by temperament, although where the political forces for it are going to be is still less than certain. AOC? A Greta Thunberg for wealth taxes?
Source: https://www.amazon.com/Spirit-Level-Equality-Societies-Stronger/dp/1608190366/
The British sociologists Richard Wilkinson and Kate Pickett claim that extreme income and wealth inequality lead to worse social outcomes: physical health, mental health, drug abuse, education, imprisonment, obesity, social mobility, trust and community life, violence, teenage pregnancies, and child well-being. Why might that be? For the authors it is about the perception of trust. When inequality increases people retreat into their enclaves and trust other people less. Furthermore, extreme differences among social groups result in invidious comparisons, which creates more anxiety and can contribute to poor social outcomes. In more unequal societies, the government is also not investing enough in broadening opportunities to more people, and the lack of social services and infrastructure harm the least advantaged the most. The rich might live a materially better life in very unequal societies, but the status competition within the elite bubbles are also a strain to mental health. To pick up the theme of the German idealists: too much inequality creates too much alienation.
Source: Wikipedia
Gosta Esping-Andersen is arguably the high priest of social policy, a subfield of political science, sociology and economics, focused on state and non-state means to provide for financial and in-kind needs of the population. Esping-Andersen asks what clusters of welfare states exist, and comes up with three: conservative or Bismarckian welfare states emphasize traditional family values, motherhood and women staying at home. Social insurance is quite extensive and generous for male breadwinners. Those falling outside that framework get stingy social assistance. Liberal welfare regimes think that the market is best poised to solve social problems, and the state must only help the poorest people with means-tested social assistance. Full-time workers receive occupational social benefits. Social democratic welfare regimes promote universal social services, and active labor market policy. How did these welfare regimes come into being? It is about the class coalitions in early twentieth century in Europe. In conservative welfare states the state bureaucracy coalesced with industrial workers. In liberal welfare states the professional middle class coalesced with the wealthy. In social democratic welfare states the industrial workers and professionals coalesced with farmers. These class coalitions are decisive in forming welfare state settlements. While Esping-Andersen's typology has been criticized by many scholars, it is still used as a powerful heuristic in empirical social policy research.
Source: https://www.amazon.com/Discourse-Origins-Foundations-Inequality-Among/dp/8182201365/
Jean-Jacques Rousseau traces the origin of inequality to the rise of civil society, which stratifies people based on differences in nobility, rank and wealth. In contrast, the noble savage is a simple person, whose only desire is food, sleep and sex, and who only applies violence against others as a form of self-defense. In contrast, violence, conquest and profit is nourished only when people aggregate in civil society. It is not the natural conditions of inequality (height, physical strength, intelligence etc.) which causes social inequality, but the social rules of the game, i.e. the social contract, which makes people unequal.
Source: https://www.amazon.com/Treatises-Government-Concerning-Toleration-Hardcover/dp/1387999036/
As one of the founders of liberalism, John Locke claims that the state of nature makes every human being equal, and government officials can never stand above the people. If the government becomes despotic, the people have the right to overthrow the tyrannic government. While Locke's sentiment tends to be anti-state, he thinks that the government is needed to secure private property. In contrast, to Hobbes he does not believe that the state of nature means social chaos and warfare, but rather that private property will not be enforced. Civil government is the agreement among citizens to enforce contracts and respect private property. John Locke is, arguably, the origin of liberal philosophy and neoliberal economics.
Source: https://www.amazon.com/Leviathan-Thomas-Hobbes/dp/1950330052/
Thomas Hobbes witnessed the English Civil War, which motivated him to formulate the social contract as a solution to perennial warfare and internal strife. He argued that in the absence of a state selfish people seeking personal advantage and profit fight with each other for scarce resources, which will create chaos and disorder. Life becomes solitary, nasty, brutish and short. Internal warfare can only be overcome with a Leviathan, i.e. a powerful king or ruler, who unifies different domains into a single empire. The state and its institutions then hold the sole ownership over the means of violence, which restores peace and domestic tranquility. Looking back it is hard to dispute the idea that functioning states with rule of law, police, schools, health services and a welfare state tend to also be quite peaceful. This cuts contrary to Locke, who thinks that humans are quite peaceful, and contrary to Rousseau, who thinks that it is the government which creates social strife in the form of inequality and relationships of domination.
Source: https://www.amazon.com/Thus-Spoke-Zarathustra-Modern-Library/dp/0679601759/
Friedrich Nietzsche argues that there is an Overman or Ubermensch. It is someone, who can transcend the servile mentality of traditional religions according to which we are servants to a higher religious power. It is also someone, who has the will to power, who overcomes the self and determines on his own what his goal and purpose is in life. This radical individualism is the basis of existentialist philosophy, influencing people like Jean Paul Sartre or Albert Camus, according to which the sole purpose of life is to exist. If there is no religion or societal force or myth that can give meaning and purpose to life, it must be the individual will to power. I think that existentialism is quite appealing for intellectually minded people, but is much tougher to embrace for everyone else.
Source: https://www.amazon.com/Genealogy-Morals-Dover-Thrift-Editions-ebook/dp/B00A62Y18E
In the Genealogy of Morals, Nietzsche proclaims that religious morality like Christianity or Judaism elevate the weak over the strong and powerful. He is yearning for a return to a more "innocent" world, where the strong can defeat and destroy the weak and be proud of it. He cites Greek mythology admiringly as examples for this more "innocent" past. Modernity, in contrast, makes the rich, strong and powerful guilty for depriving the poor and the weak. This slave morality replaces action and strength with passivity and nihilism. Nietzsche most strongly reveals his political sentiment in this work and gives a justification for libertarian philosophy, which denounces welfare policies for the poor, but has also been abused by the Nazi regime for legitimating violence and atrocious crimes against persecuted minorities. Religious and socialist people will take much offense in Nietzsche's views, but it makes him a quite compelling philosopher.
Source: https://www.amazon.com/Critique-Pure-Reason-Immanuel-Kant/dp/1604592753/
Immanuel Kant is the founder of German Idealism. He took on the debate between empiricists and dogmatists/ rationalists, where the former claimed that God, the soul and objects in general if they can be experienced by the senses, and the latter claimed that they derive from theoretical reasoning. Kant argues that both are partially wrong and partially right. To know how the science of metaphysics is possible is to have practical reasoning and moral consciousness (ideas). But ultimately the things that we can know is limited by the sensual experience (empiricist), so metaphysics becomes about examining known limits of human experience using the rational categories of practical reasoning. Transcendental realism, a term he coined, regards time and space as given in themselves and independent of our reasoning. Kant also distinguishes between pure concepts (a priori; i.e. knowledge independent of experience) and empirical concepts (a posteriori, i.e. knowledge derived from experience). His work is quite hard to understand in German, but thanks to many commentators his work can be better understood by us mere mortals.
Source: https://www.amazon.com/Phenomenology-Spirit-G-W-Hegel/dp/0198245971/
Hegel is another important German philosopher, who foregrounded the development of ideas. Ideas do not exist in abstraction from the social world, but rather ideas are tied to specific historic epochs. Hegel gives us the terminology for how ideas change via his model of dialectics. In the dialectics, a thesis gets formulated, which is challenged by the antithesis, and the clash of these two theses produces a synthesis, which becomes the new thesis that is challenged by a new antithesis to produce a new synthesis. History is about ideas, and ideas change based on the historical context. Hegel leaves a door open for progress, which is undergirded by the scientific revolution and the industrial revolution. Hegel was a loyalist to Prussia, and argued that the highest stage of development was reached with the Prussian empire. The so-called left Hegelians around Karl Marx loved the idea of dialectics, but first challenged the notion that the status quo was the best, and second that the material world, the political-economic struggles, also matter in explaining social change.
Source: https://www.amazon.com/Wisdom-Life-Arthur-Schopenhauer/dp/0486435504/
Arthur Schopenhauer argued that there are three parts to human happiness. (1) The personality is made up of personal physical and mental health. Physical health is necessary but not a sufficient condition for happiness. Mentally, intellectuals tend to be quite happy without much formal structure or additional drugs, because they enjoy dwelling in their thoughts while the dull person is not happy even if he has all the entertainment in the world. (2) Material needs includes necessary and unnecessary things. Necessary things include food, a place to live, some clothes or books. Unnecessary things include luxury items, handbags, expensive cars, big houses etc. He suggests to avoid the unnecessary things. (3) Position includes self-rated subjective valuation and other-rated objective social valuation. Schopenhauer thinks that most people care about other-rated social valuation, yet one can barely control social valuation, and so paying too much attention to it is a source of despair. Instead one should focus on subjective self-rated valuation, and think of oneself highly without exaggerating.
Source: https://www.amazon.com/Civilization-its-Discontents-Sigmund-Freud/dp/1985757389/
Sigmund Freud, the founder of psychoanalysis, traces World War I and state violence to the contradiction between the individual desire to live out primal aggression and the civilizational institutions that block these primal instincts. For Freud religion is one of the civilizational tools of mankind to suppress aggressive instincts, but also to offer answers and emotional relief to our painful, mortal existence, the cruel elements of nature and the suffering of living with other human beings. The state and religion have limits to containing this primal aggression, so another way to handle discontent is by demonizing people in other nations and wage war against them. One can attack Freud for ignoring the social and historical context to explain the war, but his take is quite unique and traces political decisions to more essential psychological dispositions of humans. While civilization has made societies and people more peaceful, there are still pockets in the world that formulate a desire to wage war.
Source: https://www.amazon.com/Passions-Interests-Political-Arguments-Capitalism-ebook/dp/B00F8MIJ4O/
Albert Hirschman claims that before capitalism could be conceived of it needed political legitimation via ideology. Enlightenment philosophers like Montesquieu argued pessimistically that human passions result in violence and tribal/ national warfare. The way to overcome this natural passion for conflict, they need to be tempered by the pursuit of economic interests. Ambitious people who used their energy for military conquest and destruction instead use it to become merchants, financiers and capitalists, which aristocrats regarded as "harmless" even if inferior pursuit. Given climate change and exploding inequality it can hardly be argued that capitalism is harmless or desirable, but Hirschman makes a good point about economic interests limiting the libido for violence. The war-torn Middle East and terroristic conflicts in West Africa also happen to be places where capital markets and investors shy away from, and their continued deprivation fuels armed conflict. Socialists argue that "capitalism brings war like the clouds bring rain" (Jean Jaures), because of resource conflicts brought on by the quest for growth and new markets. There is some truth to that as well, however, social life would be even more chaotic without capitalism. Ultimately, among big powers it is not capitalism that prevents war, but the technology of nuclear weapons.
Source: https://www.amazon.com/Dialectic-Enlightenment-Cultural-Memory-Present-ebook/dp/B011U1P03Y/
Why is the enlightenment project disappointing to humanity? According to Horkheimer and Adorno, it is because the essential premise of the enlightenment is the maximization of utility and the acquisition of knowledge (via science, media, politics, business) for the attainment of power. Other values like liberty, community, solidarity or environmental sustainability matter very little. Horkheimer and Adorno pay close attention to the marketing and culture industry, which deployed mass media like television, radio, film, newspaper and now the internet to mass-control the population, such that we can only utter a limited range of opinions and cultural tastes. Music, art, architecture and other creative endeavors have become uniform and boring. Workers are slaving away at increasingly meaningless or socially destructive jobs (e.g. nuclear scientists in the weapons industry; petroleum engineers who support the climate change exacerbating fossil fuel industry; Wall Street bankers who speculate and cause devastating financial crashes), even though robots perform more and more tasks, to earn incomes that are converted into meaningless consumer goods. Resistance to the enlightenment project, capitalism and modernity have thus become impossible to contemplate. The revolution is far off. Instead, any social discontent that arises from the status quo get expressed in misanthropic resentment like anti-semitism (Horkheimer and Adorno were German Jewish intellectuals fleeing the Nazi regime).
Source: https://www.amazon.com/Guns-Germs-Steel-Fates-Societies/dp/0393061310/
The geographer Jared Diamond gives an answer to the epic historic question why the west became rich and rule the world, while the rest became their subjects. Answers are very far-ranging, but Diamond proposes a geographic explanation. He argues the Eurasians presided over the broadest land mass, which allows for the easy exchange of technologies, ideas and people. Civilizations create written language, state bureaucracy, armies and new technologies like guns for foreign conquest, resistance to germs with the help of agriculture (which was invented by humans about 12,000 years ago), and durable means of transportation built with steel (e.g. railroad, cars, airplanes, ships). The Europeans have mastered these civilizational tools better and quicker than others and could, therefore, conquer much of the rest of the world. Only East Asia (on the other end of the Eurasian landmass) posed some resistance as the Chinese had developed a centralized civilization over many thousands of years. The Chinese were humiliated with the loss of territory, but the last empire (Qing) did not fall until there was internal warfare and not the country was conquered by the west. Africa, Latin America, South Asia, Southeast Asia and Australia, however, were completely captured by the Europeans.
If Eurasia had the advantage, then why did the Europeans beat the Chinese? Diamond resorts to geography again, suggesting that the many islands, peninsulas, mountains, rivers and forests divide up Europe, which creates many languages and ethnicity who compete for power and influence, which results in more aggressive foreign conquest. In contrast, China unified under Qin Shi Huang around 200 BC, and even when there was a struggle among multiple kingdoms, these struggles were strictly internal. The unified landmass allowed for centralized administration, which was more intent on preventing Mongol conquest and building a wall rather than conquer America or Africa.
Source: https://www.amazon.com/Sapiens-Humankind-Yuval-Noah-Harari/dp/0062316095/
Harari argues the rise of human beings is linked to our ability to cooperate in large numbers and hold abstract ideas in our heads (as in religion, nation state or recognize money as valuable currency). Human cooperation systems take the form of the nation state, religions, trade networks or legal institutions. Human development is not linear, but happened in surprising spurts, involving four phases: the cognitive revolution (70,000 BC, the basis of abstract thinking among humans), the Agricultural Revolution (10,000 BC, the basis of civilization and growing human population), the unification of mankind (5000 BC, the growth of cities, empires), and the scientific revolution (1500), which became the basis for the industrial revolution (1750) that brought us the high standard of living that we are used to today (at least in the very rich countries). The scientific revolution created the belief that human progress can be achieved by analyzing nature, formulating scientific laws and applying technology to raise the standard of living. Europeans seized on this technology, and embarked on global colonial conquest, thus bringing technology and a modern lifestyle to all parts of the world (even if at gunpoint). Going to any airport in the world, one finds the same amount of conveniences like perfume stores or a Starbucks coffeeshop. What the progress narrative neglects is that fundamentally humans are not happier than our hunter gatherer ancestors, because happiness in an objective sense (not in an Aristotelian sense) is determined by the hormones endorphine, serotonin and dopamin. These hormones have not changed, and cannot be altered by changes in the material standard of living. A lottery winner gets an initial boost of hormone levels, but that goes back to normal within a few months. Material goods are only a necessary but not a sufficient condition to well-being and long-term happiness. Thus, at the end of Harari's book we are back to the Aristotelian question, "what is a good, happy and flourishing life?"
Reading List:
Sahlins (Stone Age Economics), Malinowski (Argonauts of Western Pacific), Harris (Cannibals and Kings), Pinker (Enlightenment Now), Sartre (The Flies), Goethe (Faust, Zauberlehrling)